Children with Special Needs
We work with underprivileged children with disabilities such as hearing impairment and intellectual disabilities, to detect, treat, and create a safe learning environment for their growth and development.
Our Dhvani: Early Intervention Center and Special Care Center both take forward our mission to ensure that nothing stops children with disabilities from learning, growing and flourishing.
4 in every 1,000
children suffer from
severe to profound
hearing loss.*
We have been working with children with disabilities who belong to underprivileged communities who lack the support to help them through these issues. Their special needs make it difficult for them to integrate into mainstream schools.
*Aser Report 2011
We believe that with early detection and treatment of these cases, and access to the right learning environment, children with special needs will be able to thrive and grow into confident, responsible citizens.
We run an Early Intervention Center for children with disabilities to detect and treat children with hearing impairment, and a Special School for children with special needs, with the aim of integrating them into mainstream schools in the future.
"Thanks to Dhvani, my son can attend a normal school. We have found improvement in all aspects – emotional, social, and we can see that he is enjoying his life as any mainstreamed child does"
Mrs. Madhani, Parent
Dhvani
Early Intervention
Center
Dhvani early intervention centre provides diagnosis, Pre and Post cochlear implant management, therapy and support to hearing-impaired children.
We use state-of-the-art technology and facilities to provide holistic management of children with special needs that relate to hearing impairment between 0 to 3 years. We also work with parents to create an environment of support for the child at home post treatment. Dhvani collaborates with Hinduja Hospital and its team who support the Centre in all medical and radiological assessments of a child. Well known ENT surgeon Padma-Shri Dr.Milind V. Kirtane has performed all cochlear implant surgeries of children associated with Dhvani.
We strive to provide comprehensive services to our children from treatment to integration, with the hope that they will thrive in mainstream schools and society
370+ Children availed services
We have exponentially increased our intake of children over the years
40+ Cochlear Implants
We have a successfully completed 32 surgeries
100% mainstreaming in regular schools
We provide advocacy support to mainstream children in school
OUR SERVICES
Comprehensive Audiological Evaluation
We use the latest audiological equipment and sound treated rooms for diagnosis of hearing loss.
Auditory Verbal Therapy
Qualified and experienced auditory-verbal therapists conduct regular therapy sessions with our children. We use an approach that focuses on developing spoken language through listening. It enables parents and family to naturally develop spoken language in their surroundings. We monitor progress through regular assessments.
School Readiness
We conduct school readiness sessions & mentoring for children as well as parents for smooth transitioning into regular schools.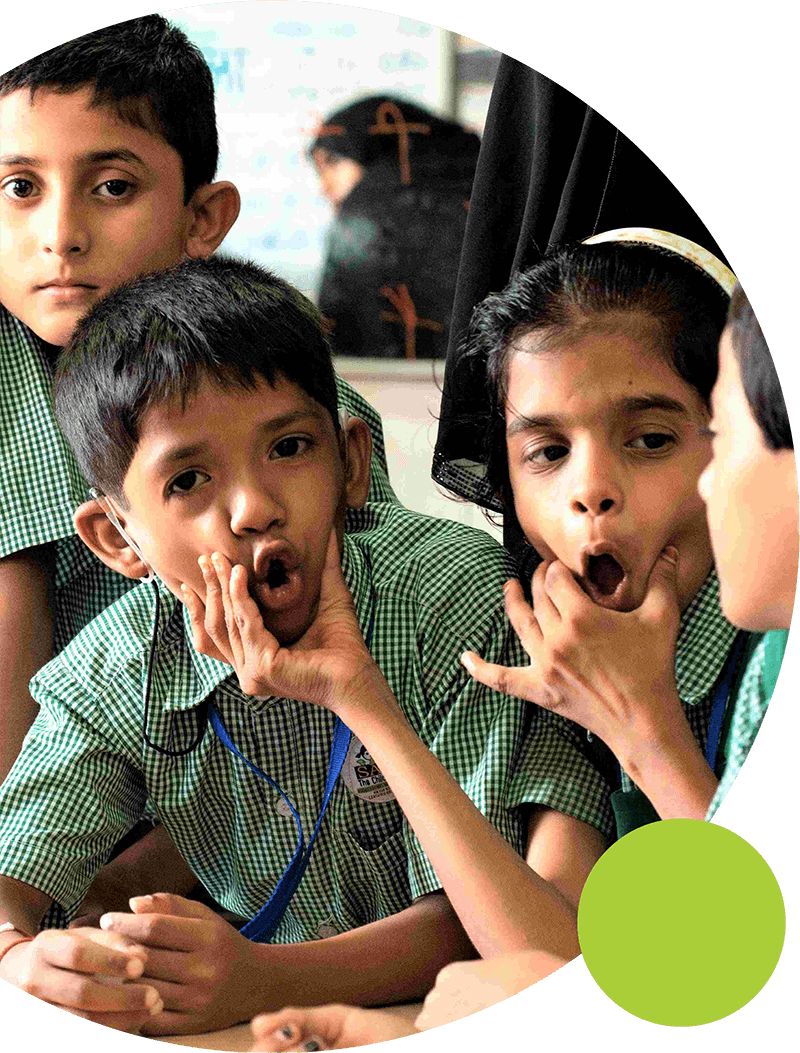 A school for children with special needs, requires specific resources to help them grow. The Special Care Center is an institute for children with intellectual disabilities and hearing impairment. Here we provide the necessary learning environment, infrastructure, and facilities for them to excel and thrive in.
The school aims to empower students by providing a holistic integrated education with a special focus on extracurriculars like sports, dance, music, arts, and crafts. Through its two sections for hearing impaired and intellectually disabled children it provides academic, functional, vocational skills and a wide range of co-curricular & extra-curricular activities that are integral components of holistic development.
The curriculum has 5 levels, enhancing the development of:
Self Help Skills
Speech and Language Skills
Academic Skills
Psycho-social Skills
Motor Skills
We have also initiated the NIOS curriculum to provide integrated education to children with special needs, in order to enable students to pursue education up to Grade 10.
250 Children Attending
Our Special Care Center currently works with 250 children
100% SSC results each year
In 2018-19, 21 students of hearing impairment section passed 10th standard State Board Examination with over 65% marks
9 children enrolled in NIOS
Enabling intellectually disabled children to pursue education till Grade 10
19 students placed in jobs
Students have been placed in hospitality, retail and IT companies
40 students NSDC Certified
40 students above 18 yrs trained in skilling program under the National Skill Development Corporation
EXTRA SUPPORT
The children attending our school are provided with nutritious meals every day and a bus service to and from the school to ensure their health and safety.
We also conduct parents' guidance workshops to promote knowledge and awareness, and medical camps for our children to ensure their well-being and good health.
Vipul Jain is an 18 year old student with an intellectual disability. At age 5, he suffered from low self-esteem, faced discrimination, and was misunderstood by his friends and neighbours. Vipul's family had no previous access to learning opportunities, until they came across the Special Care Center, and enrolled him here. Due to his low selfesteem, he cried a lot in the first year of school but our teachers worked hard to make him comfortable with the class and school environment. He was soon identified by the school's sports coach and was trained in various games.
As a young, keen and eager child, Vipul took to sports like a fish to water! His induction into sports not only enhanced his sporting talent but also significantly enhanced his personality and confidence. He developed a strong sportsman spirit and excelled at both individual and group games. Over the years, Vipul won medals and trophies in inter-school and intra-school sports meets. He also won medals and trophies in State and National-level contests. In 2014, he was selected by the Special Olympics committee to represent India for softball at the World Games, held in Los Angeles, USA. As part of Team India, Vipul played extraordinarily well and brought home two Gold medals!
Our teachers and staff work individually with every single child to bring the best out of them. It requires special care, attention and understanding to give confidence and support to children with special needs, and we work with each child one step at a time till they are ready to move into mainstream systems.