We run government and community preschools (Balwadis) and remedial education programs with the aim of helping children prepare for and keep up with their school education. Through our programs, we strive to enable holistic development of young children so that they can reach their full potential and become effective contributing members of society.
Our Balwadi Project and Patang Remedial Education Program together take forward our mission to ensure that nothing stops the vulnerable children of India from learning, growing and flourishing.
50% of class 5
students cannot
read class 2 textbooks*
While efforts have been made to prioritize pre-primary and primary education as well as enrollment for all children, schooling has only been made free and compulsory for children between the years of 6-14, through the Right To Education Act. There is still a large learning gap for children from underprivileged backgrounds. While there have been efforts made at the policy level, there are significant gaps when it comes to the implementation of government-run initiatives.
We believe that initiation to early education in India with the right environment and support enables children to grow to their full potential.
We focus on pre-school education (pre-primary education) and remedial support to bridge the learning gap and prepare children for formal school education.
"My son was very quiet and shy. Under the support of this Balwadi he has become confident, speaks more with everyone, and interacts with other children easily."
Mrs. Khedekar, Parent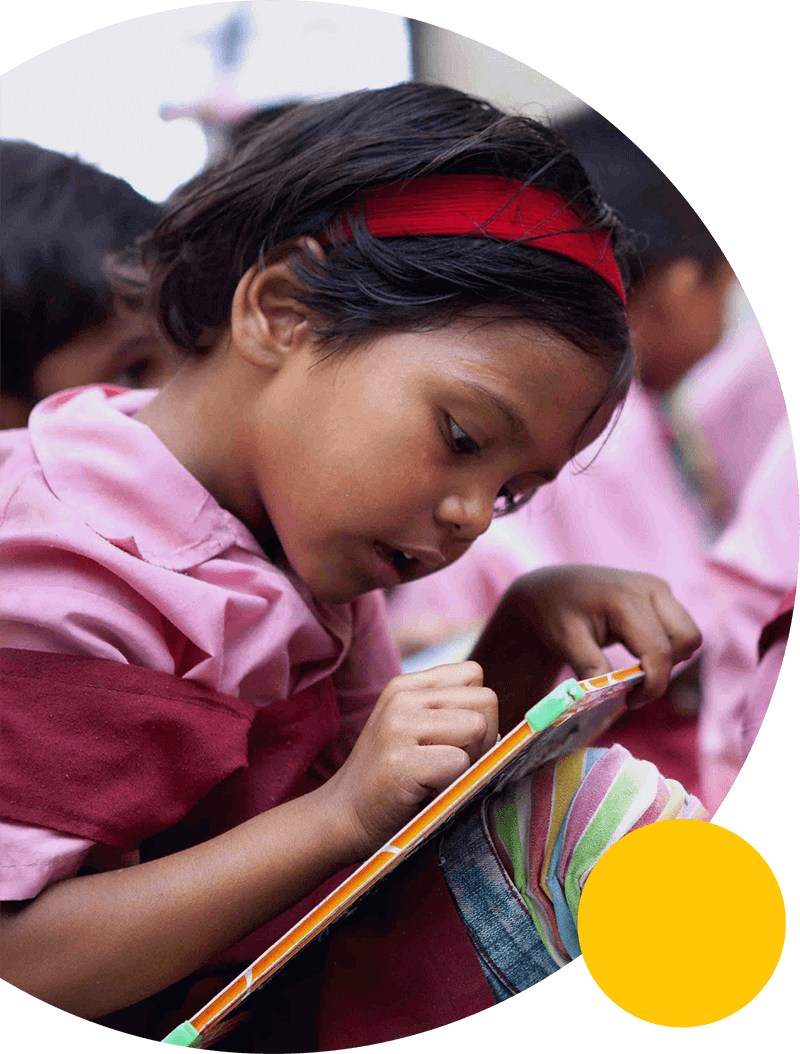 Our Balwadi Program aims to build capacity within community and government-run balwadis / preschools, resulting in improved quality standards of early childhood education in India. We directly run 47 Balwadis located in various communities in Mumbai, and we train and mentor over 200 balwadi teachers across the country.
DIRECT PROGRAM – RUNNING BALWADIS
Over the past 30 years, we have collaborated with experts in the field of early childhood education in India to train women from the community to become Balwadi teachers. We set up Centers which provided infrastructure, curriculum and teacher training.
Today, we run 47 Balwadis in various communities in Mumbai. In keeping with changing needs of early childhood education in India, we have continually evolved our processes. This includes our wellrounded, thematic, eclectic curriculum (introduced in 2015) that is implemented across all our centres.
24,900+ Pre-primary school children
Our work has impacted over 11,775 children in the year 2018-19
750+ Teachers Trained
We have trained and mentored 475 balwadi teachers directly & indirectly through our program in the year 2018-19
88% School-Ready
Students were school-ready basis our school readiness tests
Most Committed NGO '16
Unanimously selected by Early Childhood Association
Indirect Program: Teacher Training
The indirect intervention focuses on the capacity building of teachers through curriculum and teaching learning material, intensive Balwadi teacher training, and continuous mentoring. Our goal is to equip teachers with the knowledge and skills they need to be effective early childhood educators. This program is scalable and highly effective as we work with Balwadi teachers from various Municipal Corporations. These include Municipal Corporation of Greater Mumbai, Thane Municipal Corporation, Pune Municipal Corporation, Pimpri Chinchwad Municipal Corporation, Navi Mumbai Municipal Corporation, Nagpur Municipal Corporation etc. Through this intervention, we have also had the opportunity to collaborate with other NGO partners, and low-cost private schools (Ahmedabad). Vipla Foundation, through this program, hopes to contribute towards improving the quality standards of early childhood educators across the country.
Patang
Remedial
Education
Program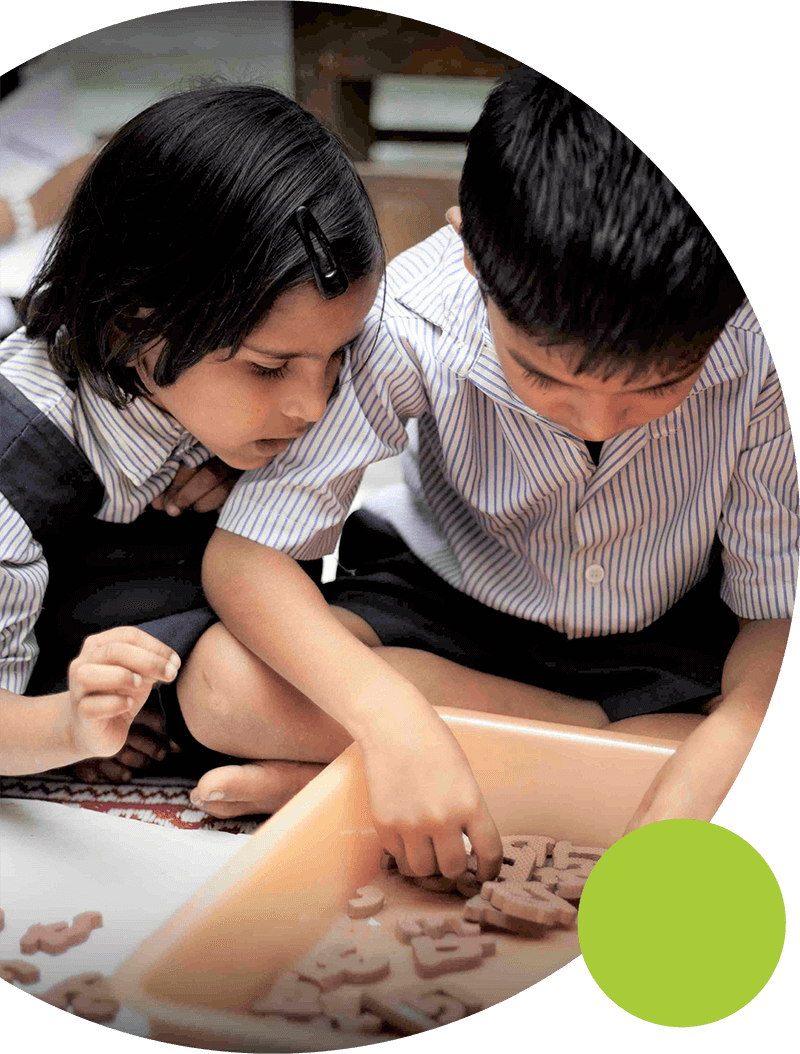 As an NGO for child education in India, we developed our Patang Program to benefit underprivileged children. Patang works with each child, who is receiving primary education, at their actual level of learning and helps them move to their potential level of learning through remedial support in school and community centres. This helps students adjust better to the pace of learning in their regular classrooms and motivates them to attend school regularly.
The Patang study centres are multi-grade and multi-level classrooms where children from class II to VII come together and receive focused teacher support to improve their literacy and numeracy skills. The teacher-pupil ratio is kept to a minimum of 1:15 to provide children with adequate support individually and in small peer learning groups. A specialized level-based curriculum helps each child learn and progress at his/her own pace. Patang centres run in Mumbai, Thane and Pune in government schools in partnership with the Municipal Corporation of Mumbai (MCGM), Thane Municipal Corporation (TMC) and Pimpri Chinchwad Municipal Corporation (PCMC), and in low-income private schools.
4,000+ Students Enrolled
Our program runs in 156 centres across Mumbai, Thane, and Pune
Improvement in Language
86% of students moved up at least one level in English after one year of the program in 2018-19
Improvement in Math
85% of students moved up at least one level in Maths after one year of the program in 2018-19
Diagnosis
We assess the actual learning level of every child at the beginning of the year through our diagnostic test.
Curriculum design and implementation
Our curriculum is a specially designed level based learning module for primary education which takes its inspiration from the grade-wise learning indicators of NCF-2005 and MGML methodology developed by Rishi Valley. A Patang class runs for 1.5 hours daily during school hours to ensure attendance and not force children into extra hours of study.
Evaluation
We assess each child's progress through the year and also conduct an end of the year test to assess each student's achieved level of learning. We organise parent-teacher meetings and meetings with school headmasters to encourage school and community engagement.
Like many other children, Divya, who attended our Balwadi (a center for pre-primary education) at Limboni-baugh, was an extremely quiet child. Mrs. Vidhya, her teacher, observed her for a few months and when nothing seemed to change, she took it up as a challenge to work deeply with Divya.
After rounds of careful observations, both individually and in group activities, Divya was placed in a "Buddy System" where peer learning and peer support were encouraged. This seemed to take the pressure off Divya and she was seen to be at ease when it came to both individual and practice sessions. One on one support was given to Divya to boost her confidence as well as frequent appreciation to help increase her self esteem.
Mrs. Vidhya also worked extensively with her parents, giving them conversation prompts and encouraging them to spend time with Divya at home. Within two months, there was an observable improvement in Divya's disposition and behaviour. She began speaking more and would even happily recite anecdotes from class to her parents.
Our teachers work hard to inculcate a passion and drive for education from a young age. They work with every child to bring joy, excitement and fun to learning so that they can build strong foundational skills.